Groove announced two new Pullips slated for release in September via their blog early this morning.  Pullip Hina Ichigo is a continuation of the newer Rozen Maiden collaboration series which started earlier this year with the release of Pullips Shinku and Keikujyaku and continued with the subsequent releases of Suigintou and Kirakishou. This is the second time that Hina Ichigo has been released in doll form by Groove, in the previous collaboration series she was released as a Dal rather than a Pullip. While Dal's diminutive stature suited Hina Ichigo's character, her sour expression did not as it seemed like the only time Hina Ichigo wasn't smiling in the original anime series was after Suiseiseki stole her strawberry daifuku! Pullip Scarlet on the other hand is not a collaboration but an original design, she is a bold contrast of red, black and white.  She looks quite dramatic compared to the super sweet Pullip Hina Ichigo.
The Releases: Pullips Hina Ichigo & Scarlet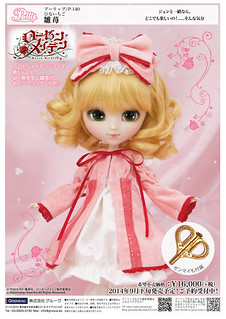 Pullip Hina Ichigo


Pullip Hina Ichigo has a MSRP of 16000 yen. She comes with a wind-up key.  I think the outfit is a nice balance between fitting Hina as a character without being too childish. Her outfit looks great, even if you aren't interested in Rozen Maiden she would make a great super sweet lolita doll. Her shoes are adorable.

I normally tend to dislike curls but her golden curls are so precious! I love her cheerful expression, the face up is done really nicely too. The eye make up looks really nice with lots of detailing and I love her lips, they are the perfect shade of pink.

Pullip can be a bit childish too sometimes!


Preorders have already opened at the new Animaru (the new official shop for TBS) for Pullip Hina Ichigo. This is not a cause for panic, TBS is the official Rozen Maiden shop preorders for all of the dolls in the new Rozen Maiden collaboration series started there before being opened up more publicly. If you preorder from Animaru you get the strawberry cushion pictured above as preorder bonus item.


Hina Ichigo is my favorite Rozen Maiden character, even though she is extremely childish or maybe because she is extremely childish. It's funny to look back for me as I had wanted so very badly for the original Dal Hina Ichigo as my first Pullip family doll, I had strongly hinted that I wanted her for my birthday way back in 2007. Mr. Klein didn't think Dal suited the character though so I got Pullip Shinku for my birthday instead and Dal Hina Ichigo ended up being the fourth member of my Pullip family instead of my first (Shinku, Suiseiseki, Suigintou then Hina Ichigo).
Honestly, I'm not entirely surprised that Hina Ichigo is a Pullip this around. Although I do feel like Pullip's happy facial expression better suits the character, Dal releases have become so few and far between from Groove recently it would have almost been a shock if they had released her as a Dal when the original Dal is still available from sale from Pullipstyle almost eight years after release.


Pullip Shinku with Pullip Hina Ichigo, they make quite the darling pair! With Hina Ichigo's release it suddenly seems a lot more likely that twins Suiseiseki and Souseiseki as well as Kanaria will get a release in this new series.
Pullip Scarlet


Pullip Scarlet has a MSRP of 15000 yen, she is not a collaboration so I am left wondering why she has such a high MSRP. I am very happy to see more original releases from Groove as most of the releases this year have either been rereleases of previous dolls in exciting new color palettes or collaborations. Compared to Hina Ichigo she has much more of a mature theme with a bold palette of black and white with splashes of red. I can not exactly say why but she strikes me as more of a J-doll design than as a Pullip design, maybe she started off as a J-doll design?


She has a very dramatic face up though it seems like I've seen it before, her lips remind of Mir's and I feel like I've seen the eye make up before as well though I can't recall on whom. It's a nice face up it just doesn't strike me as a memorable face up.


I'm very curious what that wig will really be like.


She has pretty red eyelids!
VERDICT I love Hina Ichigo's character so much that I already own a custom Pullip Hina Ichigo, hell my username on the various Pullip forums is Hina Ichigo. I absolutely love this release and don't have a single complaint about her other than it's going to be hell waiting until at least September to get her.
Scarlet looks like a solid release, she didn't really leave me with much of an impression I'm not sure if it because Hina Ichigo eclipses everything else for me or she just doesn't stand out for me. I think, I will need to see more pictures of her to make a decision.