To celebrate Sailor Moon's 20th anniversary Groove started a collaboration of dolls based on characters from the series. Pullip Sailor Mercury was the second doll released as a part of the Sailor Moon collaboration series. Bandai shop had a special edition of Pullip Sailor Mercury exclusive to their shop, the exclusive version came with Ami's school uniform but it also was priced 3000 yen higher than the standard release.
Additional Information
Release: Standard Release & Limited Release (Bandai Exclusive)
MSRP: 16,000 yen for standard release, 19,000 yen for Bandai limited release
Release Date: Originally announced for release in 9/2014 delayed until 10/2014
Product Number: P-136
Feel Like So: Agent of Water and Intelligence, the pretty Sailor suited soldier Sailor Mercury!! Douse yourself in water, and repent!…..Feel Like So.
Face Up:

Eyes: Clear Blue Eye Chips
Eyelids: Black Eyeliner

Wig: Short blue wig, please note it is longer than pictured in the promo photos. I have included one of my owner photos to illustrate actual hair length.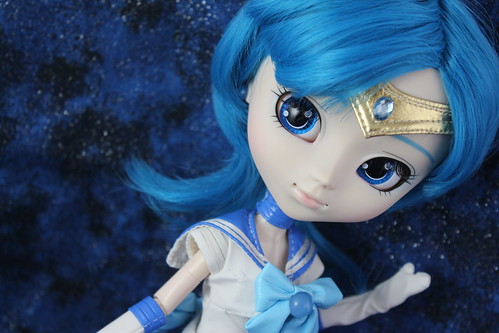 Stock: The standard release of Pullip Sailor Mercury's stock outfit consists of a tiara, choker, leotard, skirt and boots. I do not own or have access to the school uniform that came with the Bandai exclusive version of Sailor Mercury but I can say that it consists of a school uniform shirt, school uniform skirt, socks and shoes.

Body Type: 4
Obitsu Match: White
Stand: White Plastic Stand
Special Notes: She comes with blue earrings
Known Issues: Hair length longer than pictured in promotional photos, jewel placement can sometimes be a little off on the bow/tiara this is pretty easy to correct with a little bit of patience and craft glue.
Similar Doll Recommendations: Sailor Moon, Sailor Mars, Sailor Jupiter, Sailor Venus etc…
Promotional Images from Groove These photos were taken from Groove's blog.

Sailor Jupiter, Sailor Mars, Sailor Moon, Sailor Mercury and Sailor Venus

Sailor Mercury, Sailor Moon, Sailor Mars and Sailor Venus
Sailor Mercury, Sailor Moon and Sailor Venus
Sailor Mercury and Sailor Moon

Sailor Mercury and Sailor Moon

Sailor Mercury and Sailor Moon


Sailor Mercury & Sailor Moon


Sailor Mercury & Sailor Moon


Bandai exclusive school uniform