This is truly the year of a Sailor Moon's rebirth, we not only got a new television series the classic series has started being released on blu-ray and there has been so much new merchandise it is downright overwhelming especially after years of practically nothing new this is a great time to be a fan of Sailor Moon. One of the most exciting new collaborations to me, that have come as a result of the resurgence of Sailor Moon  is the Sailor Moon x Pullip collaboration.
Sailor Mercury is the second doll released in the Sailor Moon x Pullip line, the first doll released in the line was of course the one named Sailor Moon whose review you can check out here. It is somewhat of a coincidence that Sailor Mercury was the second doll to be released in the line as she was also the second Sailor senshi introduced in the anime/manga series. Sailor Mercury was released in late October (November for us here in the states) and has a MSRP of 16000 yen. There is also a Bandai Exclusive bonus version of Sailor Mercury that includes her school uniform in addition to her sailor senshi outfit which has a MSRP of 19000 yen. I recently acquired Sailor Mercury via JPGroove .

Agent of Water and Intelligence, the pretty Sailor suited soldier Sailor Mercury!! Douse yourself in water, and repent!…..Feel Like So.
Sailor Mercury comes with her sailor suit complete with removable skirt, boots, choker, glove, earrings and a clip-on tiara. The tiara comes on hair clips, it is designed to be stealthy clipped in under Sailor Mercury's bangs. She comes with the standard stand (white) and card. I really wish they included her VR Visor, it would have made for a great accessory.
Quality of the outfit? It's entirely made out of vinyl, I'm not sure why Groove/Bandai chose this material for the Sailor Moon collaboration dolls I was admittedly not the biggest fan of this decision but I have to say that I like it a lot more in person than I ever expected to and am actually quite fond of it now. The only thing I would change is the boots, the vinyl boots just never seem to look right to me they bunch up in all the wrong places thankfully I don't think any of the other Sailor senshi have boots that would be made out of vinyl.
A note about Sailor Mercury's wig, the quality is actually pretty nice and I love the color. I think the color suits Mercury wonderfully. I have an issue with the style, it's great in the front but there is a longer piece in the back that almost makes her look like she has a mullet it was not like this in any of the promotional photos so at first I thought maybe I had an odd one but several other owners have noted it on their dolls as well. It's really not a big issue, I plan to give her a slight trim eventually.


I was pleasantly surprised by the touch of pale blue eye shadow on Sailor Mercury, I swear I never noticed it in any of the promotional photos it gives her a face up a much needed touch of color though. Sailor Mercury has a simple clean face up typical of the face ups of anime collaboration dolls, I think the pop of the blue eye shadow makes her kind of interesting and keeps from being too boring. She has an almost nude lip and nice subtle blushing. I love her bright blue eyebrows. She has very striking foiled eyechips that are a great representation of her anime character. Overall I feel like she is a good representation of Sailor Mercury, Ami isn't the type of girl to be overly made up with make up.

Sailor Mercury's civilian identity is Ami Mizuno, a somewhat shy genius girl with a reputed IQ 0f 300 she does have a tendency to be a bit bookish. Ami is extremely loyal to her friends, she tends to be the voice of the reason among her friends. As a sailor scout most of her initial powers aid her fellow sailor scouts more than attack her enemies, she has a mini-computer and VR Visor that allow her to analyze their enemies looking for weak spots. Her "first attack" is Mercury Aqua Mist which creates a dense fog to blind/confuse enemies and then Sailor Moon or one of the other sailor scouts finish off the enemy.


I tried to emulate some of Sailor Mercury's poses from the manga/anime with mixed success I never really noticed how like physically painful some of the sailor scout poses look until I tried to pose dolls similarly (knees bent inward-ouch!). I also bought a new starry background just for the Sailor Moon x Pullip dolls.


Unintentional panty shot! It's pity too because this one was one of my favorite shots of Sailor Mercury.


Overall I think she is a great representation of her character, she stays very faithful to her original character design.


The simple, clean face up really suits Sailor Mercury!


If nothing else the Sailor Moon series of Pullips lends itself well to some really dynamic poses.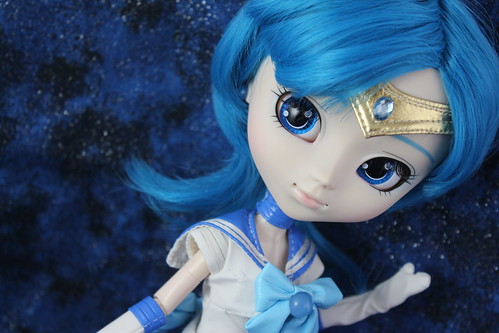 More pictures of Sailor Mercury are available via my flickr. If you end wanting your own Sailor Mercury remember she is available for purchase via JPGroove and Pullipstyle.


I decided to include a couple of bonus shots of Sailor Moon and Mercury together, they really do make a great pair.


The more I see the pair together, the more I can't wait until more of the dolls get released!